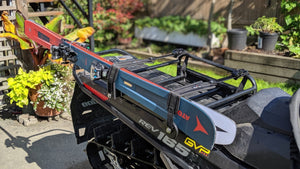 Announcing the Combo Ski and Snowboard Holder
By far our most common question over the years has been "can I fit skis into the snowboard holder," OR "can I fit a snowboard into the ski holder." Well, the answer is now yes!
We have updated the geometry of the ski holder so that it can now accommodate a Snowboard well! By adjusting the lengths of our various protective areas and strap lengths, we can now fit snowboards into the ski holder.
At the same time, we've also made another small update to the rear outer protective strut, so it should be a bit more durable as we can a couple issues in 2018.
Our pros tried out the new setup last season and were stoked. For those of you who want to accommodate a few different buddies that only ski or snowboard, opposite to your preference, this update is for you. For those of you who want to ski or snowboard, depending on the day, this one is for you.
Instead of tough choices, we now offer you the optimum set up... and here it is:
a) Choose your snowmobile rack. If you can fit the large rack, use it as it hold skis' slightly better and you get more space for you bags or fuel.
b) buy one Ski holder or one Snowboard holder of your preferred set up. If you like to Ski, get the the Ski/Combo holder. If you like to Snowboard, get the snowboard holder.
c) then get the ski/snowboard combination holder for the other side, so any of your buddies, or anyone you want to help out up the mountain can be accommodated.
d) grab an accessory strap or two to carry any bags or spare fuel cans you might want.
This is a pretty sweet development for the Port Tack Racks systems. Nobody likes to compromise, so now everybody can get set up to handle whatever comes up on the mountains.
All Prices in USD.
What it holds:
1 set of skis and poles per Mount Kit

Racks

 can hold 1 Mount Kit per side 
NOTE: Rack must be separately purchased this, the Ski Holder Mount Kit Does not include the snowmobile rack.
 Installation:
Here is a video showing how to install the mount kit to one of our racks. Takes just a few minutes and then you're ready to go.
Works with:
Specs:
Weight: .6 pounds 
Material: UHMW plastic holders, over sized stainless steel bolts (do not worry it is strong enough!) 
Hardware: Ski Mount Includes all mounting hardware and bolts required for installation. 
Installation: Bolts onto racks via pre-drilled holds - takes about 5 minutes to install (Including a 3 minutes break!)

Shipping:
Free shipping with all orders over $ 165 Within Canada and the US (lower 48 States). Worldwide shipping available.
Questions?
Have a question? Something not clear? Send us an email at ben@portackracks.com or phone us at 604 340-3749 - Would we be happy to help!
---