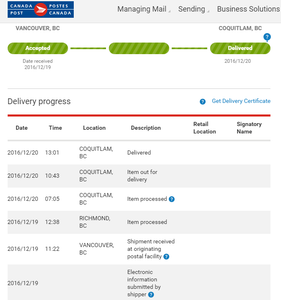 Canadian Shipping Lightening Fast
After reading about Canada Posts new commitment to their parcel service last summer, we decided to give them a try for winter 2016/17.  So far, it's been a fantastic success.  Delivery is so fast and conveninent, and cheap too that we've been able to deliver next day or 2 days to Westen Canada while also dropping our minimum price for free shipping down to $35 order quantity!
Check out an order this week from (lets call her Christy) who needed a snowmobile rack for her husband for Christmas.  He's been hauling the kids around and needed to carry extra fuel.  

I said if she ordered Monday it would almost surely get to her by Christmas (Friday - 5 days)... well, turns out it got there next day!
We had a similar experience last week, with delivery to Edmonton in only 2 days.  Obviously with free shipping we're using ground, so if you're back east you'll still have to wait for as long as it takes to drive that far, but we're really quite impressed!

For our American Customers we continue to use Fedex as we don't quite trust the system yet for crossing the border, but will do some experiments and keep trying to improve all aspects of the customer experience.
In any case, everything is in stock, and for those of you in Western Canada, it might not be too late to get a Christmas present ordered!  Works especially well now for customers using PO boxes or in buildings, where Canada Posties have access to your mailbox properly.
For those in Alaska, we're offering for cost shipping now and want to try using Canada Post for you.  We think it will be only about $40 for a rack and won't take too long.  Send us a message to test it out.
---