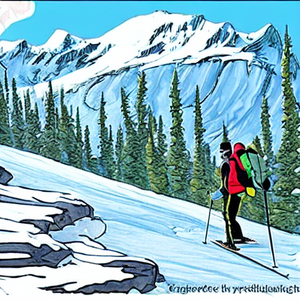 Iconic Backcountry Skiing Locations Across Canada
Backcountry skiing, also known as off-piste or out-of-bounds skiing, is a thrilling and adventurous way to experience the great outdoors and some of the most beautiful and pristine locations in the world.
One of the best places to go backcountry skiing is Canada, which offers some of the most stunning and diverse terrain in the world. From the rugged peaks of the Canadian Rockies to the abundant snowfall of British Columbia and Quebec, Canada has something to offer every backcountry skier and snowboarder.
The Canadian Rockies, which span the provinces of Alberta and British Columbia, are a true paradise for backcountry skiers and snowboarders. The region is known for its stunning scenery, with jagged peaks, alpine meadows, and glaciers all within reach of backcountry adventurers. Banff National Park and Jasper National Park are both located in the Canadian Rockies, and offer endless opportunities for backcountry skiing and snowboarding.
British Columbia is another popular destination for backcountry skiing, with its rugged mountains and abundant snowfall. The region is home to some of the best ski resorts in the world, such as Whistler Blackcomb and Revelstoke Mountain Resort, which offer a mix of groomed runs and backcountry terrain.
Quebec is also a great place for backcountry skiing, with its diverse terrain and abundant snow. The region is home to many popular ski resorts, as well as a number of smaller, more intimate ski areas that are perfect for backcountry enthusiasts. The Selkirk Mountains, located in the southeastern part of the province, offer some of the most challenging and beautiful backcountry skiing in Quebec.
No matter where you go, backcountry skiing and snowboarding are sure to provide an unforgettable adventure. So if you're looking for a truly unique and exhilarating experience, consider heading to one of these iconic Canadian regions for some backcountry fun.
---