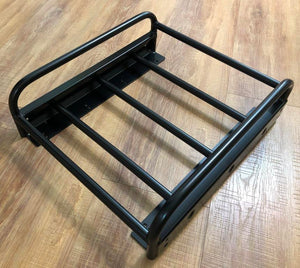 Launching Our Patrol Rack for 2021/2022!
May 15, 2021
Announcing the Patrol Rack - New for the 2021/2022 winter season. The rack is very similar to our popular Large and Compact Racks that we have been making for a decade now... it wasn't broken, so this is not a revolution.
The Patrol Rack is a modest improvement on what has been working without screwing anything up.
It uses slightly less tunnel space while the snowboard and ski holder mounts remain the same width apart for stability.
Installation is a bit easier, by providing slightly larger access points without weakening the rack in any way.
Additional pre-drilled holes to accommodate all of the new sled chasis, all of the legacy sled chasis, while providing plenty of footprint for custom hole drilling.
The rack is a few grams lighter, by using only 5 cross beams instead of 6, but we we've evenly spread them across the platform so nothing is lost.
Updated pre-drilled ski and snowboard mount holes for easy installation of our updated mount kits. 
In short, the new Patrol Rack is the same as our old Large Rack - just better! Have a look and pre-order before July to grab a $25 discount, it's the only discount we'll be offering all year.
cheers,
Ben, Pete, and Jer
---