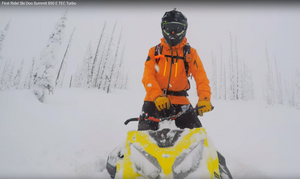 Ski Doo Forges New Territory with Factory Turbo - Everyone to Follow
Ski Doo knocked the socks off the mountain riding snowmobile ecosystem half way through the 2019/2020 season by launching the new factory turbo sled mid season. Rumors were abound, but it was still shocking to see a mid season launch. No doubt the timing of the launch of the Ski-Doo Summit 850 E-TEC Turbo was mostly about marketing and foreshadows that both Arctic Cat and Polaris will do the same for the 2021-2022 product season. Launches of those products are just around the corner so we'll find out.

For mountain sledders, especially those of us who like to ski and snowmobile via our sleds, this is welcome news. While doubling up steep terrain, often at elevation, every extra horsepower helps.
Check out the riding video Mountain Sledder has put out with a foggy but fun and deep snow ride!
---